Keynote Speakers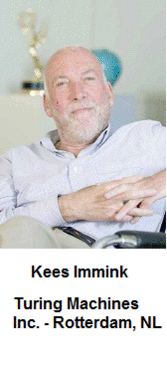 IEEE ICCE-Berlin 2012 Keynotes
Dr. Nahum Gershon

MITRE Corporation



Tutorial on Social Media
Kees Immink
Turing Machines, NL
Beethoven, Shannon, and the Compact Disc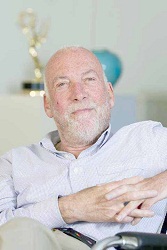 Abstract
An audio compact disc (CD) holds up to 74 minutes, 33 seconds of sound, just enough for a complete mono recording of Ludwig von Beethoven's Ninth Symphony (Alle Menschen werden Brüder) at probably the slowest pace it has ever been played during the Bayreuther Festspiele in 1951 conducted by Wilhelm Furtwängler. Each second of music requires about 1.5 million bits, which are represented as tiny pits and lands ranging from 0.9 to 3.3 micrometers in length. More than 19 billion channel bits are recorded as a spiral track of alternating pits and lands of 5.38 kilometers (3.34 miles) scanned at walking speed, 4.27 km per hour. We will discuss the various crucial technical decisions made that would determine the technical success or failure of the new medium.
Biography
Kees Immink is president and founder of Turing Machines Inc. and an adjunct professor at the Institute for Experimental Mathematics, Essen, Germany. Immink, who obtained his Ph.D. degree from the Eindhoven University of Technology, has progressed the digital audio revolution from its very beginning. Over the course of his career, Immink has contributed to the development of a wealth of digital recording products, including the Compact Disc, DV, DCC, DVD, and the Blu-Ray disc. Immink is recipient of the AES Gold Medal, IEEE Edison Medal, SMPTE Progress Medal, and an Emmy Award.
Ulrich Reimers
TU Braunschweig, DE
The Future of Terrestrial TV Broadcast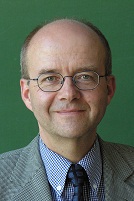 Abstract
Historically, only terrestrial networks were used for broadcasting TV programs and in many countries terrestrial TV broadcast even today is still the most important way of distributing this kind of content. But in recent years the number of TV-capable distribution networks has grown significantly. Cable and satellite TV, IPTV and even over-the-top Internet distribution exist today and it is clear that their presence and market success affects terrestrial TV broadcasting. Germany is a very special country in that terrestrial TV broadcast is all-digital since 2008, but the percentage of homes using DVB-T on their primary TV set differs significantly from region to region depending on the choice of programs present in these regions – between only 2% and 26%. All DVB-T services on air are SDTV services whereas the other networks have some time ago started to offer HDTV services. An important market trend is the use of all kinds of personal devices for TV viewing – such as PCs, in-car-receivers, Smartphones, Tablet PCs etc. In Germany, 1 mio. cars are equipped with DVB-T receivers and some 6 mio. USB sticks and similar devices are used for watching DVB-T on PCs and laptops. The terrestrial TV spectrum is under severe pressure in many parts of the world. Wireless broadband services have become so important for all of us that it is in everybody's interest to allocate enough spectrum to these services in order to support high data rates and a good QoS in the relevant networks. Regulators in many countries think that additional spectrum for wireless broadband services should be found in TV bands. In view of this complex situation the question arises what the future of terrestrial TV broadcast may look like. The options are manifold and range from "continue providing SDTV and/or HDTV programs to the TV sets in the living room" via "concentrate on the delivery of programs to portable, mobile and handheld devices" via "develop and introduce a next generation terrestrial broadcast system such as DVB-T2 or the future FOBTV in order to make terrestrial TV even more competitive" to "phase out terrestrial TV broadcasting in a few years time". In addition to these options there are the more visionary ones such as "Dynamic Broadcast", or "turn broadcast networks to overlay networks over cellular networks". The presentation will present an analysis of the current situation and will describe options for the future.
Biography
Ulrich H. Reimers studied communication engineering at Technische Universitaet Braunschweig, Germany. Following research at the university's Institut fuer Nachrichtentechnik (IfN) (Institute for Communications Technology) he joined BTS Broadcast Television Systems in Darmstadt. Between 1989 and 1993 he was Technical Director of Norddeutscher Rundfunk (NDR) in Hamburg - one of the major public broadcasters in Germany. Since 1993 he has been a Professor at Technische Universitaet Braunschweig and Managing Director of the IfN. Prof. Reimers is chairman of the Technical Module within the DVB Project and a board member of Deutsche TV-Plattform (the German institution co-ordinating the interests of all organisations involved in TV). He is the author of more than 100 publications, among others of various text books on DVB. Prof. Reimers is a Fellow of the IEEE and received numerous national and international awards - among others the IEEE Masaru Ibuka Consumer Electronics Award and the IEEE Consumer Electronics Engineering Excellence Award.
Jan Blochwitz-Nimoth
CSO and Founder of NOVALED AG, Dresden, DE
Novaled's PIN OLED® approach for OLED display and OLED lighting applications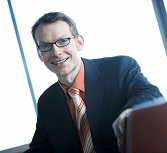 Abstract
OLED displays are currently gaining market share in mobile phone and other display applications requiring small- to medium-sized displays. Display manufacturers have stated that TVs using OLED displays will be commercially available starting in 2012. OLEDs also show strong potential for use in flat, flexible and large-area lighting applications in the future. OLEDs are a superior display technology which combines the advantages of LCD and plasma displays. OLEDs consist of a series of organic layers which are only a few hundred nanometers thick. Charge carrier injection and transport, charge carrier recombination and photon generation work closely together to directly create and emit light of any color. Organic conductivity doping is an important technology used to manage charge carrier injection and transport inside an OLED. This presentation will explain the effects of organic conductivity doping on OLEDs and show how the use of Novaled's PIN OLED® technology and Novaled's charge carrier transport materials can contribute to the performance and manufacturing of today's OLEDs for display and lighting applications.
Biography
Born in Dresden, Germany in 1970, Jan Blochwitz-Nimoth studied physics at the Technical University of Dresden (TU Dresden) and the University of Oldenburg. He completed his diploma thesis at the Institute for Applied Photophysics (IAPP) at TU Dresden in the field of ultra-short laser spectroscopy. Afterwards, he worked for one year on inorganic optoelectronic and light projection devices. While working on his PhD at IAPP, he conducted intensive research on the application of doped charge transport layers to OLEDs, which led him to found Novaled, a company specializing in OLED technologies and materials. Due to his outstanding knowledge of doped charge transport layers, Jan Blochwitz-Nimoth was a key inventor of Novaled's PIN OLED® technology. He worked for several years as Novaled's technical director and CTO, and has been Novaled's Chief Scientific Officer (CSO) since 2010.
Martin Przewloka
Senior Vice President – Global Head of Internet Applications & Services SAP Research, Walldorf, DE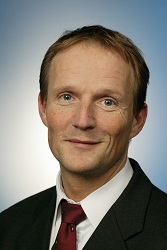 Abstract
Biography
Martin Przewloka serves as Senior Vice President at SAP and is responsible for the Global SAP Research Program of Future Internet Applications and Services. During his tenure with SAP, Prof. Przewloka held various management roles. Previously, he was the Senior Vice President of Showroom & Trial Solutions and Marketing Innovations as part of SAP Marketing; responsible world-wide for all SAP demoand presentation solutions, infrastructures, and services. Formerly, Prof. Przewloka was responsible for several SAP industry solutions as well as for SAP ERP, the SAP flagship product. Prof. Przewloka is based at the SAP headquarters in Walldorf Germany, additionally, he holds university degrees in physics, economics and medical science from the universities of Giessen/Germany, Geneva/Switzerland and Kaiserslautern/Germany. Furthermore, he holds a professorship in mathematics from the Technische Hochschule Mittelhessen/Germany and a professorship in computer sciences from the Provadis School of International Management & Technology Frankfurt/Germany.
S. Scott Burnett
Consumer Electronics, IBM, US
Convergence and the Smarter Home Cloud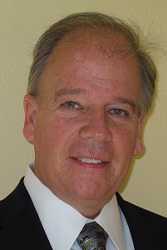 Abstract
The Consumer is ready for new services that improve quality of life. In a smarter home devices are converging, connecting people to services and to each other not only for entertainment but also for safety & security, energy management, health & well-being and overall convenience. The electronics Industry has the unique opportunity to lead the way and create new services to further enhance our digital lives. As many companies work to tap into new services-based business models to enhance consumer experience, a cloud-based service delivery approach is emerging that will allow quick development and delivery of value added services and capabilities. Smarter home service innovation can unlock business value for those companies willing to embrace change. This presentation will share an IBM view to enable a smarter home for companies in the consumer electronics, media & entertainment, healthcare, automotive, telecom and energy & utility industries. Examples will be presented on how companies can work together embracing industry standards as part of an emerging ecosystem to leverage service convergence and create new value for the consumer.
Biography
Scott is responsible for Electronics Industry business in Europe and leads IBM Strategy & Business development focused on the Global Consumer Electronics Industry, coordinating digital convergence efforts across IBM brands and Industries leveraging cloud computing for product & service innovation. Scott has served in numerous capacities at IBM ranging from executive roles in the Media & Entertainment industry to business development roles with IBM research. Prior to joining IBM, Scott Burnett served as Vice President, Liquid Audio, guiding strategy and positioning its IPO and the Liquid Audio brand as a major player in the initial market for digital music delivery. Scott Burnett's film and entertainment studio experience includes Vice President of Corporate Brands at Warner Bros. Studios, organizing global branding efforts across company divisions, and Vice President of Warner Bros. International Production Group as well as Director Operations, at The Walt Disney Company, managing international release of animated productions including brand management. Among Scott Burnett's 25+ years of business development, marketing, brand management, and production management experience in consumer electronics and media industries, he's also consulted for a number of media companies. Scott is currently a member of the CEA, Consumer Electronics Association Board of Industry leaders and a member of the board of directors for CABA, Continental Automated Buildings Association. He received an MBA from the University San Francisco in 1985 and Bachelor of Arts degree from St. Thomas University in St. Paul, Minnesota in 1981. As an Associate Professor, he taught marketing at the University of San Francisco.
Prof. Jens-Rainer Ohm
Institute of Communication Engineering, RWTH Aachen University, DE
Standardization of High Efficiency Video Coding(HEVC)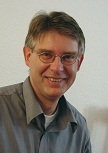 Abstract
HEVC is the latest in the series of video compression standards developed jointly by ITU-T VCEG and ISO/IEC MPEG. The HEVC project was formally launched in January 2010 through a Call for Proposals issued as common text by both organizations. Since April 2010, the standard is developed by MPEG's and VCEG's Joint Collaborative Team on Video Coding (JCT-VC). The first version of HEVC is expected to be finalized in January 2013 for approval in both ISO/IEC and ITU-T. The major goal of the project is to develop the next generation video coding standard that could achieve the same level of subjective video quality with substantial savings (e.g. reduction by half) relative to the bit rate required by the current Advanced Video Coding (AVC) standard. Initial measurements of the capability of HEVC at this stage indicate that its performance is approximately meeting the targets set by this goal. The presentation will summarize the status of the HEVC development and give an overview about the technology included in the standard. In comparison to AVC, larger variable-size block structures (entitled as coding units) are used with associated prediction and transform structures. More advanced tools are used for motion-compensated and intra prediction. Several elements such as entropy coding are similar or even simplified as compared to AVC, such that the overall complexity is not exhaustive. Specific measures for supporting parallelism are also an inherent part of the design. Application areas of the standard are foreseen in a multitude of application areas, where increasing resolution and quality demand urges for improved compression. The current draft of the first version targeted for 2013 foresees only one "profile", such that identical decoding devices could be employed for various consumer oriented services such as broadcast, video download and streaming, both for fixed and mobile networks, or for storage. In short, HEVC has large potential to have a major influence on anything related to digital video over the next decade. The talk will also provide an outlook towards further extensions which are currently prepared in the areas of professional, scalable and stereo/3D video coding, expected to emerge in subsequent versions and additional profiles after 2013.
Biography
Jens-Rainer Ohm holds a full professor position and is chair of the Institute of Communication Engineering (IENT) at RWTH Aachen University, Germany, since 2000. His research and teaching interests cover the areas of image and video coding, motion-compensated, stereoscopic and 3-D image processing, multimedia content analysis, image, video and audio signal processing, transmission of multimedia signals over networks, as well as general topics of signal processing and digital communication systems. Since 1998, he participates in the work of the ISO/IEC JTC1/SC29/WG 11 Moving Pictures Experts Group (MPEG), where he has been contributing to the development of the MPEG-4 (part 2 Video, part 10 AVC) and MPEG-7 standards. He is chair of the MPEG Video Subgroup since May 2002. From January 2005 until November 2009, he was also co-chairing the Joint Video Team (JVT) of MPEG and ITU-T SG16/WP3/Q6 VCEG, together with Gary Sullivan of Microsoft. Currently, both are again co-chairing the Joint Collaborative Team on Video Coding (JCT-VC) of MPEG and VCEG, with intended mandate of developing the next generation of high-efficiency video coding technology.
Dr. Nahum Gershon
MITRE Corporation
Tutorial on Social Media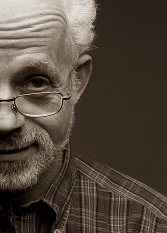 Nahum grew up in a melting pot- a real one. This multi-lingual environment was cerebral but also literal and oral. So naturally, he desired, since he was a child, to be a scientist, an aspiration he fulfilled specializing in the areas of chemistry, physics, and biology. Later in life, he discovered that humans cannot live on reason & linear thinking alone, so he went through years of personal transformation. Today, Nahum works on combining creative expressions like storytelling, film, social media, and visual and interactive design with technology and strategic planning. He can still be logical (and very much so), but he does it only when appropriate. Nahum is a Senior Principle Scientist at the MITRE Corporation where he focuses on research and practical applications of presentation and visualization of data and information, as it relates to perception, society, storytelling, culture, and new media (social, mobile, real time). Routinely, he tries very hard not to torture his audience with PowerPoint slides and bully bullets whenever possible. In his free time, Nahum, among other things, participates in a number of national and international committees. He enjoys life.