Keynote Speakers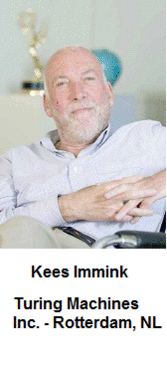 Overview
View
in a larger map
Venue
The conference will take place in IFA fair ground. Room "Berlin" in Hall 7.3
Click to download detailed map.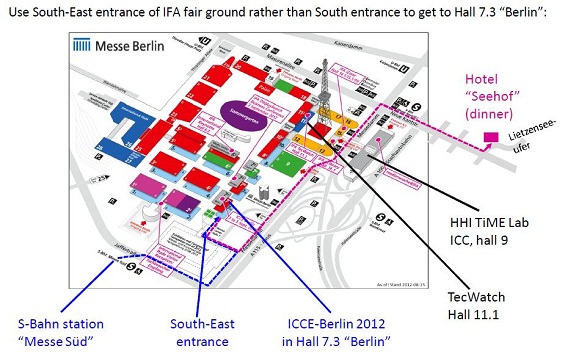 How to get here
Click to download detailed map.
The official address is: Messe Nord/ICC Berlin, Messedamm 22, 14055 Berlin, Germany.

You will find a detailed overview on arrival instructions on the official websites of the ICC Berlin .
Important Note
After you registered for the conference, you will receive a separate e-mail with three registration codes shortly before the conference. These allow entry to the conference and to the IFA. Please, perform online activation and print out your tickets to get access to the conference building.
Conference Dinner - BBQ
Date: Tuesday, September 4, 7:30 pm
Location: Restaurant "auLac" / Hotel Seehof am Lietzensee
Address: Lietzensee-Ufer 11, 14057 Berlin
Depending on the weather conditions the dinner takes place outside or inside.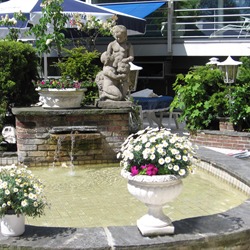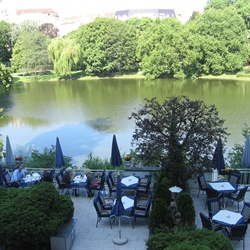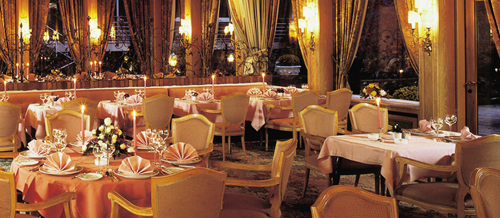 GOLD Event
Date:
Monday, September 3, 9:00 pm
Location:
There will be a guided night tour through Berlin's government quarter, starting at the Brandenburg Gate. Highlight of the tour is the dome on top of the Reichstag building with its stunning view over Berlin. The tour closes in a nearby pub, where we can talk about our experiences and impressions, and enjoy the famous German beer. If you are interested, hurry to sign up... the tour is limited to 15 people. The sign up does not require IEEE membership, but if more people sign up, IEEE CE Society Members will be preferred. Share your experiences and impressions of the latest products at IFA and the newest achievements in Consumer Electronics at ICCE-Berline with fellow researchers and engineers at a GOLD-sponsored Night Out in Berlin. All ICCE-Berlin participants that graduated within the last ten years are invited to join us!
Meeting: On Monday evening at 9:00 pm, right after the conference.
Note:
Who is invited? IEEE CE Society GOLD members (Graduates of the Last Decade), VDE Young Net members, and also all ICCE-Berlin participants that graduated within the last ten years. When is the event? On Monday evening at 9:00 pm, right after the conference. How to sign up? Write an email to vde-conferences@vde.com until Monday, 20 August 2012 with subject Gold Event ICCE! You have to provide the following data in the email in order to be able to join the tour and visit the Reichstag (security check): - Full Name (First- (Middle-) and Last name), Address and birthday for the security check to enter the Parliament Building (as written in your passport) - IEEE membership and CE Society status (yes, no) and graduation date. When is the deadline? Please sign up until Monday, Aug. 20th 2012. This is a hard deadline without exceptions since all guests must be announced prior to the visit the Reichstag with full name and birthdate!
ICCE 2012 Guided Tours
During the ICCE 2012 different tours will be offered, please see below. In order for us to plan accordingly, please let us know for which tour you would like to sign up.
1. Time Lab at Hall 9 IFA (Monday 3.9. 18 :00 - or Wednesday 5.9. 13:00 - 13:30)
The mobile TiME Lab http://www.medienwoche.de/2012/time-lab The Mobile TiME Lab created by the Fraunhofer Heinrich Hertz Institute will celebrate its world premiere at this year's International Media Convention. The TiME Lab offers a 180-degree, high-end panorama projection in 3D and 7xHD resolution combined with an outstanding sound system that allows audiences to virtually immerse themselves in the film's animation and sound worlds.
2. Deutshe Kinemathek (Tuesday 4.9. 17:30-19:30 Sony Center), Deadline for signing up Tuesday August 28th !!!
Deutsche Kinemathek http://www.deutsche-kinemathek.de/ A journey through film history: from the pioneering years, to silent-film divas and the films of the Weimar Republic; from cinema under National Socialism, exile in Hollywood to the post-war years and contemporary cinema; and at the heart of the exhibition: Marlene Dietrich. The Permanent Exhibition Television completes the profile of the Filmhaus at the Potsdamer Platz, making it a comprehensive "house of moving images". Visitors are able to experience great moments in broadcasting history as well as how the medium developed in East and West Germany
3. Tecwatch (Monday 3.9. 13 :00-14:00 or Tuesday 4.9. 13 :00-14:00 or Tuesday 4.9. 17:30 - 18:00) IFA Hall 11.1
IFA TecWatch is unique in combining a specialist exhibition with a communication and business platform for demonstrating innovation. IFA TecWatch is an outstanding and valuable platform which facilitates a knowledge exchange among experts, a technology transfer within research and industry, and acts as a launch pad for successful business partnerships. It is also a very attractive shop window for technically interested visitors as well as for the retail trade, and enables them to prepare in good time for the new markets of the future.
Hotels
Berlin Grand Hyatt:
Arrival: 01 September 2012
Departure: 05 September 2012
Grand Rooms:
Double room single occupancy at Euro 235,00 per room per night.
Double occupancy at Euro 285,00 per room per night.
The room rate is quoted in Euro per room and night, including 7% VAT and access to the Club Olympus Spa & Fitness. Furthermore included in the room rate are fresh fruits, mineral water, coffee and tea making facilities and a daily newspaper. The buffet breakfast at Vox Restaurant will be charged with Euro 34,00 per person.
Ringhotel Seehof Berlin:
Ringhotel Seehof Berlin
http://www.hotel-seehof-berlin.de/
Phone: +49 (0)30 32002-111
Fax: +49 (0)30 32002-351
reservierung@hotel-seehof-berlin.de
Arrival: from September 02nd, 2012 to Departure: September 06th, 2012
Rooms Units: 15.
Room Categogy: Queen-Size-Rooms
Single Room: 180,00 EUR
Double Room; 220,00 EUR
The mentioned rates are per room and per night.
Room Category
Our comfortable queen-size rooms with seaview are stylished equipped. These non smoking and smoking rooms are situated on 3rd, 5th, 6th, 7th and 8th floor. The rooms have a queen-sized bed (160x200cm), a safe, a desk, a little couch, a flatscreen TV, a minibar and a telephon. The bathroom is decorated with marble, has a bathtub, a hairdryer, a cosmetic mirror and WC.
Inclusive Services
 service charge as well as the current VAT
 accommodation in the booked room category
 free use of our swimming pool and sauna
 choice of our rich breakfast-buffet (the breakfast rate is 13,00 EUR per person)
Booking Conditions
We have created an allotment at call. The keyword is: " ICCE-Berlin 2012 ". On August 06th, 2012 we will cancel the remaining allotment which is not retrieved for one future sales purpose. Nevertheless each individual reservation may be cancelled until 6pm at the day of arrival. For each room night which is not cancelled in time we charge the client a cancellation fee of 90% of the agreed room rate/per night. In case of non cancellation a penalty of 100% is due to pay.
Payment Modalities
All guests pay their invoices for accommodation, breakfast and any possible incidentals themselves on departure.
General Information
The rooms are available on the arrival day from 3pm and on the departure day until 12am.