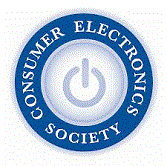 Welcome to the 5th IEEE 2015 ICCE-Berlin
CHECK THE WEB FOR UPDATED INFO: PROGRAM, CONFERENCE DINNER, KEYNOTES, YOUNG PROFFESIONAL SEMINAR AND YP EVENT, WOMEN IN ENG. EVENT, ...
Visit PROGRAM section and VENUE & LOCATION sections for more details.
CE Society Design Competion will be announced in Berlin! The competion is open to all interested.
DOCTORAL WORKSHOP Call for Partitipation CLICK HERE TO OPEN
IEEE 2015 ICCE Berlin Keynote Speakers
TUTORIALS
TUTORIALS
The 5th IEEE International Conference on Consumer Electronics - Berlin (IEEE 2015 ICCE-Berlin) will bring together researchers and engineers from industry, research centers and academia to exchange information and results of recent work on systems, circuits, technologies, processes and applications in the field of consumer electronics.
The IEEE 2015 ICCE-Berlin is a sister conference of the IEEE Consumer Electronics Society's flagship conference ICCE held annually in Las Vegas. As the ICCE is successfully combined with the Consumer Electronics Show (CES), the IEEE ICCE-Berlin is held in parallel with the IFA, the leading trade show for Consumer Electronics and Home Appliances.
The Call for Papers is available. Please submit your paper abstract via this web site until JUNE 15th, 2015. Click HERE to submit (will be redirected to EDAS). Registration for the conference will open on this site.
FIRM DEADLINE EXTENSION! Abstract Submission: June 15th, 2015
This year the IEEE CE Society is joining forces with other IEEE societies to broaden and strengthen the CE subjects and scope of the conference: the Community for Cloud Computing, the EMC Society, the Life Sciences Technical Community, the Product Safety Engineering Society, the Reliability Society, the Society of Social Implications of Technology, and the Vehicular Technology Society. To allow these new participants to join us, we have extended the paper submission deadline a last time.
Come and present your work at IEEE 2015 ICCE-Berlin and visit Berlin!

Find more videos @ IEEE CESoc TV
News
On-line registration VISIT REGISTRATION SECTION (click here)
PDF eXpress ID for Camera Ready papers:35775X .Visit 'Instructions to Authors' section to get more info.
July 7, 2015: Notification to authors is starting. Due to the high number of submissions the notification to authors was delayed. Sorry for the inconvenience.
July, 2015: IFA hosted conferences Click HERE to find ICCE-Berlin
June, 2015: HEVC/H.265 Video Coding Standard TUTORIAL. By Dan Grois, Benjamin Bross, and Detlev Marpe Fraunhofer Institute for Telecommunications – Heinrich Hertz Institute (HHI), Berlin, Germany.
June, 2015: CE Soc. NEWS: ICCE 2016 @CES, Las Vegas (Nevada) Save the date! ICCE 2016
June, 2015: ICCE 2016 @CES Jan 9-11, 2016 IEEE ICCE 2016 Call for Papers
June 2015: NEW INFORMATION ABOUT KEYNOTE SPEAKERS AND TUTORIALS.
May, 2015: FINAL DEADLINE EXTENSION. Abstract Submission: JUNE 15, 2015.
May, 2015: Keynote Speakers and Tutorials have bee updated.
March, 2015: Submission is opened Click HERE to SUBMIT your paper.
January, 2015: IEEE 2015 ICCE-Berlin website launched and CfP opened.
IEEE 2014 ICCE-BERLIN videos available at IEEE CE Soc TV: keynote speakers, interviews, sessions, ... AND MORE (click here).
If you would like to know what happened in 2014's edition, keep informed at IEEE 2014 ICCE-Berlin
A full set of pictures from IEEE 2014 ICCE-Berlin is available at IEEE 2014 ICCE-Berlin
Important Dates
FINAL DEADLINE EXTENSION
Abstract Submission: June 15, 2015 May 1, 2015
Notification of Acceptance: June 30, 2015 May 17 , 2015
Camera-ready Submission: July 31, 2015 June 7, 2015
Save the date! IEEE ICCE 2016 @CES Jan 9-11, 2016, Las Vegas (Nevada)
ICCE 2016: "Internet of Me": Next Gen of Consumer Connectivity.
Visit ICCE 2016
IEEE ICCE 2016 Call for Papers
Organizers
IEEE Consumer Electronics Society (CE Soc)
German Chapter of the CE Soc & VDE (co-organizers)
IEEE Life Sciences Technical Community (LSTC)
IEEE Product Safety Engineering Society (PSES)
IEEE Cloud Computing (Cloud Comp)
IEEE Electromagnetic Compatibility Society (EMC)
IEEE Reliability Society (Rel.Soc)
IEEE Vehicular Technology Society (VTS)
IEEE Soc. for Social Implications of Technology (S. Social IT)
Sponsors
TbA
Contact