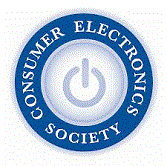 SAVE THE DATE: IEEE 2016 ICCE-Berlin will be held 5-7 September, 2016.
Co-located with IFA and at IFA fair ground like previous editions
Registration is available THROUGH THIS LINK Looking much forward to meet all of you in Berlin @IEEE 2016 ICCE-Berlin co-located with IFA.
The IEEE Consumer Electronics Society has long stood for the highest levels of technical achievement. ICCE maintains that tradition of excellence in the consumer electronics and networking space. Associating your brand with ICCE through patronage enhances your brand perception among a select group of the world's best scientists, engineers, and executives. The patronage packages listed below can help you showcase your brand's excellence to the IEEE-ICCE and the IFA (a partner of ICCE and VDE) community. If you have any questions, or would like us to customize a package just for your company, please contact Charlotte Kobert (Conference Coordinator) at ckobert@ieee.org, Francisco J. Bellido (Kiko) IEEE 2016 ICCE-Berlin Publicity Chair/Advisor at fjbellido@ieee.org or Gordana Velikic, IEEE 2016 ICCE-Berlin Sponsoring Chair at gordana.velikic@rt-rk.com

The IEEE International Conference on Consumer Electronics ICCE-Berlin is run in parallel with IFA and held inside IFA ground http://b2b.ifa-berlin.com/de/DieIFA/HostedConferences/index-2.html in Berlin. It attracts a global mix of industry and academic participants and is an excellent opportunity to promote your company/organization to an audience of world-class researchers in the CE industry.

Patron opportunities document (PDF)
IEEE ICCE-Berlin Short Flyer (PDF)
Come and present your work at IEEE 2016 ICCE-Berlin and visit Berlin!

Find more videos @ IEEE CESoc TV
Organizers
IEEE Consumer Electronics Society (CE Soc)
German Chapter of the CE Soc & VDE (co-organizers)
IEEE Product Safety Engineering Society (PSES)
IEEE Reliability Society (Rel.Soc)
IEEE Soc. for Social Implications of Technology (S. Social IT)
IEEE Electromagnetic Compatibility Society (EMC)
IEEE Life Sciences Technical Community (LSTC)
Sponsors
TbA
Contact