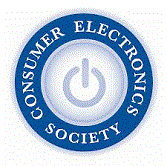 Conference Registration
Conference Rates.
(*)Early registration fees till August 7th, 2015.
IEEE Member, VDE, FKTG Member: 540€
IEEE CE Society Member: 520€
Non-Member Registration: 640€
Student Member: 420€
Student Non-Member: 480€
The registration fee includes IFA ticket, coffee-breaks, lunch, welcome reception (Sept. 7), gala dinner (Sept. 8), and the conference proceedings (USB stick).
(*)Prices will be increased after August 7, 2015. Student rates by 40€, all the rest by 60€.

On-line registration CLICK HERE.
The online registration is also possible through the
VDE website
. After you registered for the conference, you will receive a separate e-mail with three registration codes shortly before the conference. These allow entry to the conference and to the IFA. Please, perform online activation and print out your tickets to get access to the conference building.
Important Notice:
The reduced fees only apply if membership and/or student proof is sent via fax to +49 (0)69 9631 5213 or e-mail to vde-conferences@vde.com with Subject: "IEEE 2015 ICCE-Berlin".
Letter of Invitation:
For an invitation letter, please contact
Charlotte Kobert
or
ICCE-Berlin info
.
Additional Booking and Information:
Social/Technical Tours will be offered on site and can only be booked on site. A gala dinner ticket for an accompanying person costs 95€.
We look forward to seeing you all at the IEEE 2015 ICCE-Berlin!