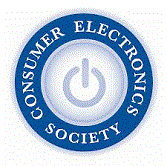 Overview
View
in a larger map
Venue and how to get there
The conference will take place on the IFA fair ground. The exact location and further information (maps, quick guides how-to-get-to) can be found in this section.
Also available in PDF format
How-To-Get-To in PDF.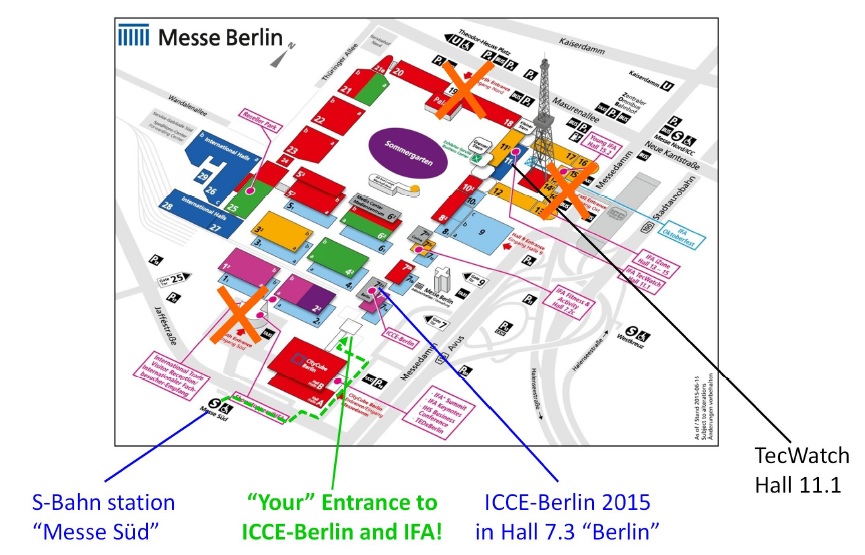 The official address of Messe Berlin is:Messe Berlin GmbH, Messedamm 22, 14055 Berlin, Germany.

Detailed information for arriving travelers @IFA: arrival section at the official website of the IFA.
For detailed information about the IFA 2015 itself see http://www.ifa-berlin.com.
Important Note
After you are registered for the conference you will receive in the early days of September a separate e-mail with the registration codes which allow you to entry to the conference and to the IFA. Please, perform online activation and print out your tickets to get access to the conference building.
Conference Dinner - BBQ
The Conference Dinner will be held at Marriot Hotel (near Postdammer Platz) on Tuesday noon, September 8th. Shuttle bus will be provided for attendees from IFA ground to Marriot Hotel.
Young Professionals, mark your calendar.
Activities for Young Professionals, Students and Women in Engineering members at IEEE 2015 ICCE-Berlin
If you are in your early career or postgraduate student, the IEEE Consumer Electronics Society is pleased to offer two special activities during ICCE-Berlin for you. Don't miss your chance to enhance your professional skills and get to know fellow young researchers and engineers from all over the world!
Special Workshop for Young Professionals, Women in Engineering and Students "How to Avoid the Pitfalls of Starting a Technology Company" Sunday, Sept 6, 4:20 pm - 6:20 pm, Speaker: Stefan Mozar
Special Event for for Young Professionals, Women in Engineering and Students "Kayak Sunset Sightseeing Tour of the Fabiolous City of Berlin" Sunday, Sept 6, at 7:15 pm in front of Restaurant Van Loon http://www.kajakberlintours.de/tours/night-tour/
Some details on the workshop: This workshop will start with some of the special considerations that Technology Companies must be aware of. This will include Technology S-Curves and the time to market concept. Then how to develop a business plan and it elements will be discussed. Identifying market targets, the marketing plan, finance, risk management. It will provide an opportunity to get to know about what is required to have a successful start-up.
About the speaker: Stefan Mozar is a CEO of a small technology consulting company in Australia. He has been involved in starting 5 companies and business ventures. This includes being a member of the Repco Equipment Company in Australia, which is multinational company. He has experience in green and brown field start-ups. In addition to his engineering degrees, he holds an MBA from the University of Technology, Sydney. He has been involved in course development and teaching of the highly successful Master of Business and Technology program of the University of New South Wales, Sydney. He co-authored the course "Strategic Management of Business and Technology". He has also taught in MBA programs.
The seminar is included in your conference registration without any extra fees. If you'd like to attend, please write a short note to
carsten.dolar@ieee.org
so that we can prepare enough hand-outs.
Some details for the Kayak tour: The tour will be a paddling tour in Kayaks of two. Equipment (incl. boats, paddles and life jackets) will be provided. Please bring some casual clothing and leave valuables at your hotel. Also, bring a rain jacket for light rain. In case of any bad weather, the tour will be canceled.
We strongly encourage everyone to attend Young Professional seminar and we will head over to the meeting point together, however, if you can not attend we will meet right in front of Restaurant Van Loon at 7:15 pm. Price for the Kayak tour: IEEE CE Society members: free Non-IEEE CE Society Members: 10 EUR (*) (instead of usually 17 EUR)
If you plan to attend the Kayak tour, you need to sign up by writing an email to carsten.dolar@ieee.org by Monday, August 31 2015. Please indicate your (projected) graduation year and your IEEE membership status (IEEE member yes/no, IEEE Consumer Electronics Society membership yes/no). You do not have to be an IEEE CE Society Member to sign up, though, everybody is welcome.
There is a limited number of seats available, so be quick! IEEE CE Society Members will have priority.
Best regards and looking forward to seeing you in Berlin
Carsten Dolar and Abdullah Almuttiri Young Professionals Committee IEEE Consumer Electronics Society (*) Please note that IEEE CE Society membership is 5 USD for the rest of 2015 for students. Please consider signing up to have access to all membership benefits and the award-winning CE Magazine. http://cesoc.ieee.org/membership.html
IFA Guided Tour TecWatch
Detailed info about the Guided TecWatch Tour and how to register (free of charge) will be announced at the Conference Registration Desk.