Keynote Speakers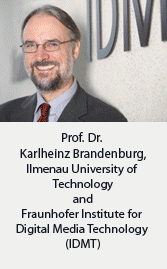 Conference Registration
Please use the following link to go to the registration page and complete your registration.
IEEE ICEE-Berlin 2011 Registration and Payment
.
Conference Rates
Non-Member: 550€
IEEE Member, VDE, FKTG Member: 450€
CE Society Member: 440€
One-day ticket: 250€
Student Member: 350€
Student Non-Member: 400€
The registration fee includes IFA ticket, coffee-breaks, welcome reception, gala dinner, and the conference proceedings.
Important Notice:
The reduced fees only apply if membership and/or student proof is sent via fax to +49 (0)69 9631 5213 or e-mail to vde-conferences@vde.com with Subject: "ICCE - Berlin 2011".
Letter of Invitation:
For an invitation letter, please contact
Charlotte Kobert
.
Additional Booking and Information:
Social/Technical Tours will be offered on site and can only be booked on site. A dinner ticket for an accompanying person costs 60€.
We look forward to seeing you all at the IEEE ICCE-Berlin 2011!
Hotel Reservation
Please use the information provided by the ICC Berlin, the venue of IEEE ICCE-Berlin and IFA, to reserve a convenient room for your stay in Berlin: ICC Berlin.
The following hotels (selection) are in walking distance: