Keynote Speakers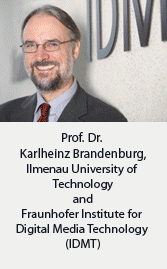 Overview
View
in a larger map
Venue
The conference will take place in the International Conference Center (ICC) Berlin, which is directly connected to the exhibition halls of the IFA: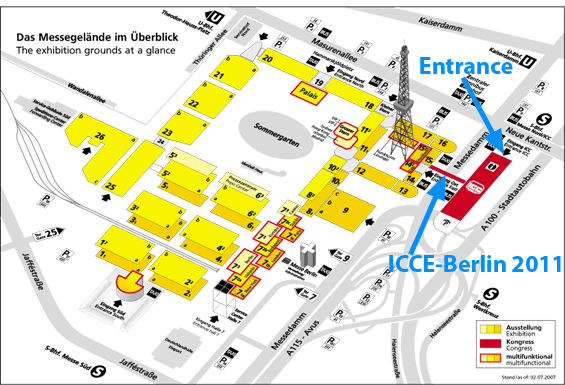 How to get here
The official address is: Messe Nord/ICC Berlin, Messedamm 22, 14055 Berlin, Germany.
The conference will be located in room 42 and 43.
You will find a detailed overview on arrival instructions on the official websites of the ICC Berlin. For the basic facts use the pocket information.
Important Note
After you registered for the conference, you will receive a separate e-mail with two registration codes. These allow entry to the conference and to the IFA. Please, perform online activation and print out your tickets to get access to the conference building.
Conference Dinner - BBQ
Date: Wednesday, September 7, 7:30 pm
Location: Restaurant "auLac" / Hotel Seehof am Lietzensee
Address: Lietzensee-Ufer 11, 14057 Berlin
Depending on the weather conditions the dinner takes place outside or inside.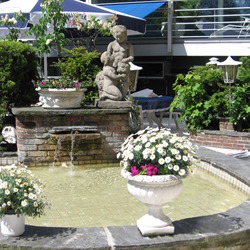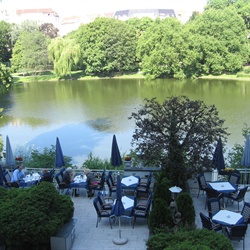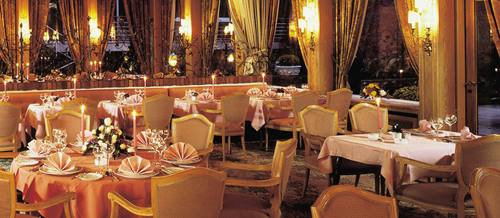 GOLD Event
Date:
Tuesday, September 6, 9:00 pm
Location:
Das Bowling-Studio
Address:
Kaiserdamm 80, 14057 Berlin
Meeting:
We will meet 8:50 pm at the reception desk
Note:
Only 36 seats available, please sign up at list at reception desk.
After conference reception on Tuesday evening, starting at 9 pm there will be a bowling event in a place nearby. For this event especially CE Society members that graduated within the last ten years (GOLD members) are invited, but the event is also open to other conference participants. The idea is to bring together a nice mixture of people so that GOLD members will get to know some experienced CE members. There are 36 seats available. To join, you have to sign up in a list at the conference. GOLD members will be favored. The CE Society sponsors the event, so there is no fee charged. Come and enjoy a good game of bowling, a good talk and even get a free beverage.

Visiting Research Labs
Date:
Wednesday, September 7, 5:40 pm
At Wednesday you can choose to visit the 3D video lab of the HHI or the IP500 alliance. Please, register at the conference registration desk. It is free of charge.
3D Video Lab at Fraunhofer Heinrich Hertz Institute
Location: Fraunhofer Heinrich Hertz Institute, Image Processing Department
Address: Salzufer 6, 4th floor, 10587 Berlin
Meeting: We will meet at the conference registration desk and walk together to the research lab.
IP500 Alliance
Location: IP500 Alliance, VDE Building
Address: Bismarckstr. 33, 10625 Berlin
Meeting: We will meet at the conference registration desk and walk together to the IP500 alliance.
A presentation of the IP500 Alliance and a technical demonstration of the solution as well as some target applications will take place at the VDE-House, Bismarckstr. 33, 10625 Berlin. The IP500 Alliance provides Manufacturers, System Integrators and Distributors for Building Automation solutions the world first full interoperable wireless IP mesh network technology for low power sensor devices based on international IP and IEEE standards. In 2007 the Alliance has started as an interest group of OEMs with a focus on security applications. Today, IP500 Members has become - the Alliance - with a large group of OEM members, engaged in all major areas in building automation - like fire & security, access control systems, detection systems, monitoring, metering and management systems.
IFA Guided Tour TecWatch
Date:
Wednesday, September 7, 1:00 pm - 2:00 pm
Meeting:
We will meet at the conference registration desk.
Note:
Please register at the conference registration desk for this event. No extra fees.
The IFA provides a guided tour along the TecWatch. Main topic is "Smart Home". IFA TecWatch is unique in combining a specialist exhibition with a communication and business platform for demonstrating innovation.
Special Session Green CE
Date:
Wednesday, September 7, 2:00 pm - 4:00 pm
Location:
Conference Venue, Room 42
Wayne Rifer will give a talk about "Environmental Standard Development for Consumer Electronics EPEAT - IEEE 1680 Family of Standards"
Abstract: The multi-stakeholder voluntary consensus process of the IEEE 1680 Family of Standards for the environmental performance of electronic products is currently producing new standards for imaging equipment (printers, copiers, etc. . IEEE 1680.2) and televisions (IEEE 1680.3). These standards will complement the existing standard for computers and displays (IEEE 1680.1-2009). The two new standards have passed out of their IEEE workgroups and have entered the critical balloting phase.
The marked success of EPEAT in the marketplace has placed the standard process under considerable pressure, with intensive offense and defense being played by different stakeholder groups. However, the stakeholders have demonstrated a clear preference for a progressive outcome, and the process has successfully passed barrier after barrier, even when the odds appeared overwhelming. These difficult stakeholder dynamics will be one focus of this presentation.
Because the process is based on an open consensus, the outcome represents the goals of society for the environmental performance of electronic products. Therefore the second focus of this presentation will be to depict the environmental expectations being placed on electronics manufacturers that this process makes apparent. Plans are underway to more effectively engage European, and Asian, stakeholders in this U.S.-based process. Therefore, this presentation will focus especially on issues that will be critical for Europeans.
Short CV: Wayne Rifer - EPEAT Director of Standards and Conformity Assessment Green Electronics Council. Mr. Rifer participated as a negotiator in the national NEPSI dialogue to design a funding system to recycle discarded electronic products. He initiated and managed the stakeholder process to develop EPEAT - Electronics Product Environmental Assessment Tool - a procurement tool for environmentally preferable electronics (www.epeat.net). He currently works as the EPEAT Director of Standards and Conformity Assessment for the Green Electronics Council/EPEAT. Mr. Rifer is a member of the Board of Directors of the National Center for Electronics Recycling (NCER), a national non-profit dedicated to the development and enhancement of a national infrastructure for electronics recycling.